ADVERTISEMENT
Alert: 16 days to Valentine's Day! For those who are happily in love, Valentine would be one of the most anticipated day of the year. Usually, it will be the day where boys will be more romantic, more gentle, and kinder. Although I strongly believe that boys should remain just that way every day, not only during Valentine's Day. The same goes to the romantic gestures, flowers, and chocolate!
Whether you spend it with your partner, your family, or your friends, you should always dress up! I have some suggestions which will ensure you to steal the attention away on d-day. For this year, I will stick to the colour white! All of the clothes below belongs to ZALORA (
link
).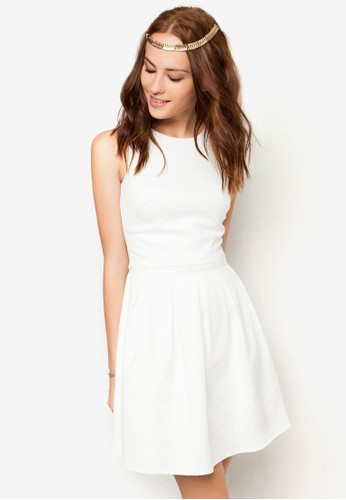 LOLA SKYE Jacquard Embellished Waist Dress (
link
)
A very plain yet body fit dress. It shows some curves but only the necessary parts. This dress is a good example of simple, elegant, and chic! The detail of the material cannot be seen on the picture above but you really should click on the link!
LOLA SKYE Crochet Layered Skater Dress (
link
)
This is definitely my favourite! The upper part of the dress shows a little bit of skin in crochet! The amount of skin shown is just enough to give a sexy but reserved impression. (or in girls' word: mysterious).
ZALORA Embellished Skirt Sheath Dress (
link
)
How could anyone not fall in love with this sheath dress? Look at the pink embellished skirt! The details are just beautiful!

I hope my suggestions do help! However you are going to spend your Valentine's Day, or with whoever you are going to spend your Valentine's Day with, you should always use the occasion itself as an excuse to dress up! Unless you are spending it alone, then I strongly suggest you to do retail therapy because it is the best mood booster ever! ZALORA is only one click away and you should rest-assure because ZALORA's website is trusted! Their vast-known reputation in South East Asia is the perfect proof!
For more white dresses, please click (
link
)!
Till next time!